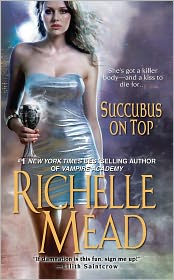 Succubus on Top
by Richelle Mead
My Rating: A+
Synopsis from B&N.com
"Love hurts, and no one knows it better than Georgina Kincaid. If she so much as kisses Seth Mortensen, the shy, sexy writer she's been dating, she'll drain his life force. Admittedly, the shapeshifting and immortality perks of a succubus are terrific, but it's completely unfair that a she-demon whose purpose is seduction can't get down with the one mortal who accepts her for who she is. . .
It's not just her personal life that's in chaos. Doug, Georgina's co-worker at a local bookstore, has been exhibiting bizarre behavior, and Georgina suspects something far more demonic than double espressos. She could use an assist from Bastien, an irresistibly charming incubus and her best immortal friend, but he's giving Georgina some highly distracting come-hither vibes. Georgina is going to have to work solo on this one—and fast, because soon, Doug's life won't be the only one on the line. . ."
I didn't know I was going to love these books so much! They read so much easier than alot of the PNR I've read lately. There are no complicated names to remember and no ridiculously elaborate world building, just a few supernatural characters and a whole lot of fun!
Georgina is a Succubus. In order to survive, she has to sleep with mortals and in so doing, takes their essence and many times, years off their lives. Its what feeds her. Now, I didn't know what to think about a book about a woman who has to seduce men to survive, but Georgie hates that she has to do it. In the previous book, she'd only seduce the scum of the earth because she didn't feel so bad stealing their lives. But after her boss, Jerome, did her a favor, she had to promise that she'd start sleeping with good, moral humans as well.
There were a couple things going on in Succubus on Top. First, and most importantly (to me, ha!), we see Georgina and Seth's relationship grow deeper, and more complicated. Not only are they falling in love with each other, but their sexual chemistry is sizzling and they have no way to burn off that lust together. If Georgina even kisses Seth, she begins to steal his essence, so as you can imagine, they try to remain as chaste as possible.
Seth is such an incredible character. First of all, when I read his character, this is who I think he looks like:
It's Steve from Sex and the City!! LOL! I don't know what it is. Seth isn't blatantly hot, but he has that quiet, geekish, clumsy personality that I seem to love! He's so loyal and treats Georgina so well. I sometimes don't think she deserves him. I don't know how this series will shake out, but I sure hope things do work out for the two of them, I just don't see how it can. If any author can make it happen though, it's Richelle!
Another plot going on in the book has to do with Doug, Georgie's co-worker from the bookstore. He's been acting much differently lately. Very out of character for his normally fun-loving, quirky personality. I don't want to spoil the book, so I won't discuss this with much more detail, but to say that where the story went was quite predictable.
Also, Georgina's friend (an Incubus) Bastien has come to Seattle on a little project of his own. He's made mistakes in the past and has found himself in some hot water. In order to save his career, he is trying to bring down the leader of a political organization in the area.
Even though I didn't like this book as much as the prequel, I'm giving this book a full A+ for the sheer fact that I can't get this series out of my head and want to do nothing but read about Georgina and Seth! The ending to this book was quite possibly the hottest ending I've ever read in a book *wink*